Description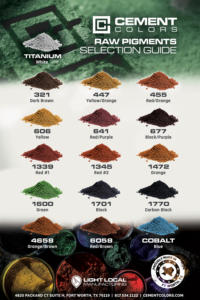 Don't settle for plain gray concrete. Add a splash of color to your next project with our selection of Standard Concrete Pigments. Our pigments come in 5 lbs, 10 lbs, 20 lbs, or 50 lbs bags.
Multiple Colors of Raw Pigment for concrete available at CementColors.com. Get creative today! Cement Colors is a leading supplier of premium powdered pigments for concrete and other decorative landscaping elements.
Full of Color. Full of Life.
---
More ways to use raw pigment with concrete projects.