Description
Smith Paints Color Floor is a water-based extra-strength stain that is developed to give a decorative natural appearance to concrete floors and other porous mediums. Specifically formulated as a user-friendly alternative to hazardous solvent and acid-based stains, Smith Paints Color Floor Water-based Stain utilizes state-of-the-art acrylic polymer research and pigment preparation to ensure the highest quality results.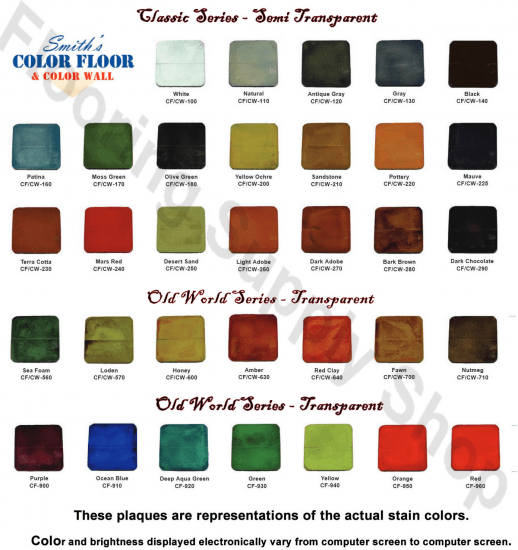 Smith Paints Color Floor concrete stain works well on a variety of surfaces, both horizontal and vertical. Undoubtedly due to its superior adhesion to multiple surfaces, including, but not limited to, interior and exterior concrete, brick, plaster and natural stone. Color Floor can be applied to previously sealed surfaces. For example, this allows the applicator to save jobs with little hassle. In addition to the Classic Series (semi-transparent concrete stains), Smiths Color Floor is available in Old World Series (transparent stains) and Bright Light Series (high-chroma stains).
Smith Color Floor Highlights

Low Odor

Water Submersible

Low VOC

Fast Air Dry

Weather Resistant

Overnight Installation

Ultra Violet Light Resistant

Interior/Exterior Application

Alkali Resistant
Properties: A decorative stain specifically for concrete surfaces. In addition, Smith's Color Floor is water submersible, alkali, weather and UV light resistant. These stains require a top coat and are compatible with solvent based, water-based, single and two component products, including but not limited to urethanes, acrylics and epoxy sealers.
Warning: Smith's Color Floor is not compatible with Methyl Methacrylate or penetrating (e.g. sodium silicate) sealers.
Another key point, Smith Color Floor may contribute to LEED credits